Bath – one of the best cities in Britain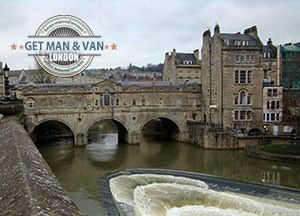 If you are tired of London, with all its stress, hassle and negative effects of cosmopolitan life, maybe it is time for you to move to a quieter and nicer place. So, give your man and van company a call and tell them that their man and van moving services would be needed for a relocation to the beautiful city of Bath in Somerset.
We cannot possibly enumerate all the reasons we consider this place so magnificent. In a nutshell, Bath can offer you all the benefits London does, but without the negative sides. Just like the capital, Bath has a very long history, well developed cultural and arts scene, trying commercial sector and beautiful nature. On the other hand, the local population counts at just 88 000 people – so you will be spared from the discomfort of traffic, stress and millions of people crowding one city.
Bath was conceived and built as a place for relaxation. The Romans built public baths here circa AD 60, and it remained a popular spa-location throughout the centuries, especially in the Georgian era. Most of the historical architecture in the city at the present moment is namely from that period.
If you ever wanted to live in history, Bath is the perfect place to do that, because the whole city was declared a World Heritage Site by UNESCO in 1987. That is the reason why you will find it hard to see a building younger than the 19th century here. Living in bath is literally like living in a fairy tale. Even if you are afraid that you will feel like living at the end of the world after making the transition from large metropolis to a comparatively small settlement – don't be. Bath is a very vibrant place, with millions of tourists visiting it every year. It has been estimated that their exact number in the past couple of years is up to 3.8 million.
Bath has a very thriving cultural scene with dozens of museums, theatres and other venues.
In addition to that, there are two universities that service all sectors of life – from information technologies and industrial production, to performing arts, history and literature.
Finding employment in Bath would not be that hard, especially bearing in mind the fact that the city has a pretty thriving economy thanks to the tourist business. But it is not limited to that. Industrial economy is a big thing in Bath too – not as important as it used to be in the previous centuries, but still many people find work in that sector. What is on the rise in recent years is the strong software, publishing and service-oriented industries, represented as such companies as Future Publishing, London & Country mortgage brokers. Thanks to the two universities mentioned above, and a number of schools, education is another of the vital economic sectors for Bath – 30 000 people find jobs in the education and health care branches of the local economy.
---
About author