Lighten the Load before Removal Day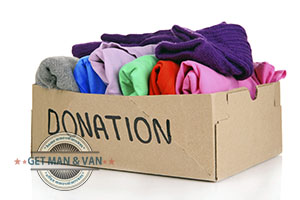 Generally, man and van removal companies form their service quotes based on the volume and nature of items destined for relocation. Awkward items are likely to attract higher removal costs due to the time, effort and expertise that go into moving them safely and efficiently from A to B.
Since man and van companies provide quotes based on volume of items, it makes sense for customers to dispose of unwanted goods prior to removal in order to lighten the load and lower the bill. This doesn't mean one has to leave behind important personal possessions, but only to consider what is no longer needed and can be parted with.
Perhaps moving places is the ideal time to purge years of clutter from your life and start over fresh at your new home. In case you don't really know where to begin with giving away your unwanted belongings, by all means speak to your man and van service provider as they will likely point you in the right direction. For a quick overview of the possible ways to deal with no longer needed possessions – read on below.
First up, you have the option to sell much of the stuff you no longer need as may be most of the items are still in decent working order and usable. Here is how you can make some extra cash from your belongings:
A garage or yard sale

– a sale will fetch you some cash, don't expect to make a fortune but chances are you will get rid of all the unwanted items and generate some extra money which come in handy on removal day – like tip for the man and van people for instance.

Selling online

– the internet is full of auction sites and if your items are in good nick and worth a fair price by all means pitch them for sale online. Look for a more established auction site which generates more buyer views for a quicker sale.

Local adverts

– you always have the option of selling your items locally, do this by placing an ad in a local publication – many people still don't feel comfy doing business online and will look for ads in local papers, shop windows, community notice boards etc.

Specialist publications

– when you need to sell high end equipment or niche items it is best to place an ad in a specialist publication known to people interested in such specific items. This will facilitate a quicker sale at a more accurate price.
When selling the items is not a priority, but you still don't want to lug around unwanted stuff, by all means give the goods away to friends, family and charities.
If giving away things to friends and family, you know your stuff is in good hands and will be put to good use. In many cases, friends and relatives will come and take the items off your hands so you save time, money and effort from doing this yourself. In one such situation, you also have the option to loan some items and take them back when you settle in at your new place.
Giving to charity is another option. Charities will be happy to take all items in good working order, whatever they are. Some charities deal specifically with furniture (they also do the heavy lifting and transportation), others deal with garments and clothing. The latter will even supply you with special garment bags and collect them off you upon request.
Whatever is left, and cannot be sold or given away can surely be recycled.
---
About author
Jeremy Oliver




Previously serving as a logistics coordinator, Jeremy's comprehensive understanding of the industry gives him the ability to translate complex procedures into easy-to-understand blog posts. He has a particular knack for tackling the intricacies of London's removals scene, from the congested roadways to the unique challenges of navigating historic neighborhoods. As an authentic Londoner, Jeremy combines practical knowledge with his inherent love for the city, offering readers not only information on man with van removals but also local insights and valuable tips.