How to pack jewelry
The packing is arguably the most important step in a relocation and this is why we have decided to present to you some jewelry packing tips that you will undoubtedly find very useful.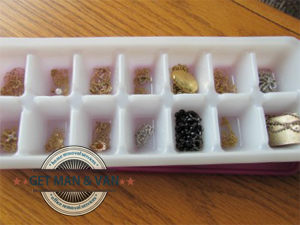 As we said above the packing stage is one of the most important stages in a relocation and this is why it is for the best if you find and hire a man and van company that provides packing services aside of the other more conventional man and van services. By hiring professionals to pack your belongings you will have the necessary time to pack your valuables more properly.
The reason why the man and van company won't be packing your jewels is that some items such as your personal documents, bonds, ancestral memorabilia, jewels and etc, shouldn't be packed by strangers. These are your most valuable items so your should take care of them while the man and van company is packing your everyday items such as your books, kitchen utensils, candleholders and so on.
Once you have arrange the details with the man and van company that you have hired, go to the local super market and buy a pack of zip-lock plastic bags. Next gather several index cards and with the aid of a safety pin poke several rows of holes into the cards. You will use the holes to hand your earrings.
Once you have hanged your earrings wrap each index card separately in a piece of soft clean cloth and place the wrapped cards in one single zip-lock plastic bag. The cloth will keep the earring from rubbing into one another during transit and therefore fill protect your earring from scratches, cracks and other possible damages.
Slip each one of your necklaces and bracelets into a drinking straw and clasp the ends close to stop your necklaces and bracelets from tangling up. If necessary you can cut the straws to size. Once done gather the straws and wrap them in a soft cloth and finish by placing the wrapped straw bundle in a plastic bag.
Place your rings in empty pill cases if you don't have spare ring cases. If the cases are big enough you can put two or more rings in a single case. Arrange the cases in a plastic bag and close the zip-lock. Other jewelry such as brooches, cuffs, tie pins and etc should be wrapped and place in a zip-lock bag as well.
---
About author
Jeremy Oliver




Previously serving as a logistics coordinator, Jeremy's comprehensive understanding of the industry gives him the ability to translate complex procedures into easy-to-understand blog posts. He has a particular knack for tackling the intricacies of London's removals scene, from the congested roadways to the unique challenges of navigating historic neighborhoods. As an authentic Londoner, Jeremy combines practical knowledge with his inherent love for the city, offering readers not only information on man with van removals but also local insights and valuable tips.