Rollover Safety of Modern Vans
Rollover safety has always been a big concern for van engineers and designers. Vans need to be safe for drivers, other motorists and the load they are carrying. An unstable van is an unsafe one, which would render it useless for companies in the man and van and people moving industry. In the past, vans didn't score too high on the rollover safety scale, but why?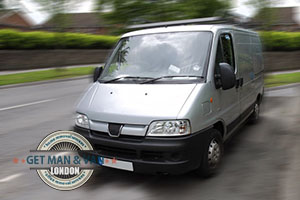 Some time ago, vehicle design and physics weren't as advanced as they are today. Aerodynamics although well-known concepts to engineers, weren't applied too much in van designs as aesthetics or efficiency weren't the main concern. Back in the early days, vans were mainly designed with simplicity, practicality and hauling capacity in mind. One of the biggest issues with transport or removal vans has always been their high centre of gravity. The physics of the vehicle chassis, along with its purpose and load capacity translated to a high centre of gravity as opposed to a flatbed truck or pick up vehicle of the same size and capacity. As most people, even with basic knowledge of physics, would imagine an object or vehicle with high centre of gravity is unstable either when stationary or in motion. Another aspect which made a higher centre of gravity an issue for vans was their purpose. A van is used to carry heavy loads, as such it needs to have a tougher yet somewhat softer suspension setup in order to accommodate the heavy load and absorb the bumps and dips in the road without spilling its cargo. From an engineering point of view, a stronger suspension usually meant a higher suspension. So when a van was fitted with higher suspension it sat higher off the ground, which in turn made it unstable (due to higher centre of gravity). All of these factors made early vans susceptible to rollovers. A rollover is a crash in which the vehicle tips and falls to either of its sides, or in worse case scenarios it even rolls over entirely, landing upside down on its roof.
As one can imagine, this was bad news for drivers and the loads they were hauling, so something needed to be done in order to improve van rollover safety. Much needed safety improvements would also make the man and van industry more efficient and reliable for both customers and operators. In the case of passenger vans, it was the precious human cargo they carried that was also in part to blame for higher centre of gravity which made the vehicle unstable in certain circumstances. Seats layout, spacing between seats etc. all had to be reconsidered if vans were to become safer for passengers and drivers. The more seating capacity a van has, the more apparent the rollover safety issue became. In modern days, it is known that carrying passengers closer to the front of the van will keep the vehicle more stable and reduce the risk of rollovers. Tyre pressure is also crucial when it comes to preventing rollovers. Drivers must understand how tyre pressure works and how it affects the behaviour of the van. Usually, the heavier duty the van, the higher tyre pressure it requires (especially rear axle tyres).
---
About author
Jeremy Oliver




Previously serving as a logistics coordinator, Jeremy's comprehensive understanding of the industry gives him the ability to translate complex procedures into easy-to-understand blog posts. He has a particular knack for tackling the intricacies of London's removals scene, from the congested roadways to the unique challenges of navigating historic neighborhoods. As an authentic Londoner, Jeremy combines practical knowledge with his inherent love for the city, offering readers not only information on man with van removals but also local insights and valuable tips.