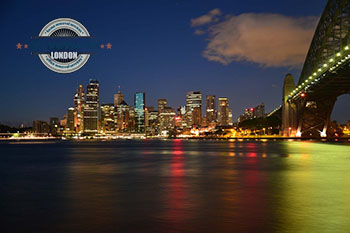 Top destinations for British expats
Statistics show that British people like to move around, whether it be for work, better lifestyle, retiring or marrying abroad. This has been a steady trend for many years, data shows that in certain decades British people have moved more than others. There have been traditional hotspots for British nationals looking to move abroad. If you are one of those people looking to make a life elsewhere, then do some research on how to get there with the fewest costs. International man and van removal companies deal with long distance relocation projects so consult with the specialists.
As mentioned, traditionally British people have moved to a number of preferred destinations all over the world. Here are the most popular ones:
Australia – Why? It seems the British appreciate the higher standard of living in Australia, as well as the outdoor and beach going lifestyle. Generous work pay and cheaper access to highly exotic destinations of Southeast Asia, it is easy to see why Brits like down under so much. Top cities for British expats in Australia are Perth, Sydney and Brisbane. These are also the cities where British people find work the easiest as they fill the skill shortages.
US – Why? First of all, there is no language barrier (just as in Australia) which is great news for the British. Second of all – house prices, in the US a British person is likely to get much more for their money when it comes to housing. Residential properties in the US as cheaper, much larger and better equipped than many UK ones so naturally British people don't mind living in the States. Top cities for UK expats are New York and San Francisco.
Spain – Why? Ignoring the real estate bubble in Spain and much of Europe (which was partially caused by soaring property purchases by British nationals) from a few years back, it seems Spain has still remained a top European destination for many Brits, largest portion of them retirees. This is mainly to do with the lower living costs in Spain, so the good old British pound goes a longer way over there. Many working age Brits also move to Spain to take up various job, most of them decent qualification jobs. At the moment, there are about seven hundred and fifty thousand British expats living in Spain, centred mostly in Alicante, Malaga and Canary Islands.
Canada – Why? Because it is a large and diverse country with amazing natural scene and sights. True, the climate across much of Canada is bad news, but that's nothing new to British people right. The high living standard and generally friendly attitude toward newcomers makes Canada a suitable choice for many Brits. Most UK expats are living in Toronto, Vancouver, Montreal as well as Calgary. Canada is a welcoming country for people from all over the world, the nation has one of the highest numbers of immigrants per capita anywhere in the world. However, British people should know that Canada is a bilingual country where French is spoken just as much as English.
---
About author
Jeremy Oliver




Previously serving as a logistics coordinator, Jeremy's comprehensive understanding of the industry gives him the ability to translate complex procedures into easy-to-understand blog posts. He has a particular knack for tackling the intricacies of London's removals scene, from the congested roadways to the unique challenges of navigating historic neighborhoods. As an authentic Londoner, Jeremy combines practical knowledge with his inherent love for the city, offering readers not only information on man with van removals but also local insights and valuable tips.