Turning a Aircraft into Home
Green living is nothing new, people with sustainable living principles have tried to do their little bit in keeping the environment cleaner and healthier on an everyday basis. On the same note, some people have not only opted for sustainable living but also for green homes. Green homes are the theme of the future and there is no stopping it.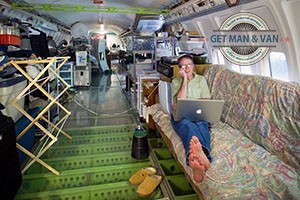 At first, homes from recycled materials sounds quite strange, even drastic – are natural resources so depleted that there's not enough brick, mortar and timber left to put together a house? No, there are enough resources at the moment, but many people are experimenting with homes of recycled materials because it is cheaper, sustainable and actually turns out quite well.
Perhaps, many people are also realigning their living priorities – understanding that top grade roof insulation is more important than kitchen cabinets made of the finest Scandinavian timber, especially in the case of green or recycled material homes. Here is a good example – a man from Portland, Oregon in the US has bought himself a decommissioned Boeing 727 and has subsequently turned into a rather comfortable home, situated in a lovely woodland (not sure if the man and van removals will cover the area though) near Portland. The initial investment is not peanuts but it's not an unbearable sum either – the scrap metal 727 costed just shy of hundred and thirty thousand pounds.
The Portland man is planning to take things further and build another such home, this time in the body of a retired Boeing 747 – the jumbo flat. However, the project is set to be realised in Japan where the retired Portland engineer spends half his year. The International Aircraft Fleet Recycling Association estimates that there are between five hundred and six hundred aircraft retired annually all over the world. Perhaps man and van removal companies are in for a new kind of house moving service! Anyway, other excellent examples of retired planes turned into recycled material homes can be found in Costa Rica, The Netherlands etc.
In La Cholla Airpark in Arizona, US, a lifelong aircraft and aviation buff is making exceptional quality, two bedroom homes made of, yes – decommissioned airplanes! Apparently, the Boeing planes which are best suited for living in terms of size and layout are the 707, 727 and 737. In the UK however, there seems to be no rush to go green or live in converted airplanes – even if there were any enthusiasts, buying a redundant plane in the UK is just too expensive, plus owners are not likely to get planning permission from their local council. Having said this, the UK's environmental mind is branching off in other directions. The national fascination with trains and railways has given a push to some very clever green homes constructed in old train carriages.
Such homes from recycled materials are still a very small niche market, but the trend is expected to pick up in the future, and that more redundant vehicles of different shapes and sizes will be given a second chance in life, though this time as houses.
---
About author
Jeremy Oliver




Previously serving as a logistics coordinator, Jeremy's comprehensive understanding of the industry gives him the ability to translate complex procedures into easy-to-understand blog posts. He has a particular knack for tackling the intricacies of London's removals scene, from the congested roadways to the unique challenges of navigating historic neighborhoods. As an authentic Londoner, Jeremy combines practical knowledge with his inherent love for the city, offering readers not only information on man with van removals but also local insights and valuable tips.