The Upsides & Downsides of Buying a Period Home
When in the process of choosing your new home, and entertaining the thought of buying a period house, there are some things to consider and think about before doing anything else, even before choosing the right man and van company to move you there.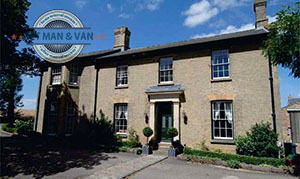 Some quick points to touch upon:
Period homes usually come with beautiful, original interior and exterior features;
Period homes can be listed or within a conservation area thus making renovation and development options quite limited at best.
Energy efficiency or lack of such is perhaps one of the biggest bummers with period homes. Vintage homes are usually fitted with single-glaze windows which aren't too good at retaining heat inside. Re-kitting character properties with new windows may require permission and will likely take some time to obtain. Sometimes keeping a period house sufficiently warm during winter will generate some serious power bills, and you may end up paying more than what you would have for heating up a modern house of the same size. Installing thermo insulation in lofts, attics and basements though doesn't require a permission as it is not a visible alteration. Compensate some of the heat loss by doing the insulation and perhaps updating the boiler system.
Period homes usually feature, fully matured, beautiful gardens full of trees, bushes, flowering plants etc. If you got your eyes on a home with a garden, take a minute or two to consider the labour and costs of keeping its luscious green looks. Maintaining a large and abundant garden is no easy task.
An upside of many period homes is that their good looks have somewhat diminished, and their asking price usually reflects this. If you are looking to save money off the purchase and willing to put in the time and effort in doing the necessary renovations on your own, then by all means choose a period home with a dated décor/look. In case you do a good job with the renovation, chances are you will be able to sell the place (should you wish to do so) at a higher price.
Older homes have indeed withstood the test of time, but in doing so they have also aged and have developed the need for ongoing maintenance. Certain parts of the house like stone pavements, foundations etc. might be able to withstand a bomb blast, but others however don't age too well. On the same note, many period homes have structural issues which must be addressed for safe dwelling. Conduct a property survey before committing to a purchase, even if the deal terms are too good to refuse.
Once you have addressed (some of) these, as well as many other issues concerning your period home purchase, you can then move on to choosing the man and van company to move you there, and all the rest of it. A piece of advice – if you have antique or vintage furniture ready for your period home, choose a specialised man and van company with expertise in relocating such delicate furniture pieces.
---
About author
Jeremy Oliver




Previously serving as a logistics coordinator, Jeremy's comprehensive understanding of the industry gives him the ability to translate complex procedures into easy-to-understand blog posts. He has a particular knack for tackling the intricacies of London's removals scene, from the congested roadways to the unique challenges of navigating historic neighborhoods. As an authentic Londoner, Jeremy combines practical knowledge with his inherent love for the city, offering readers not only information on man with van removals but also local insights and valuable tips.