How to celebrate a successful office removal
Moving an office from one place to another can be a laborious task that requires careful planning and precise execution. However once the relocation is over there are many ways to celebrate the well done job.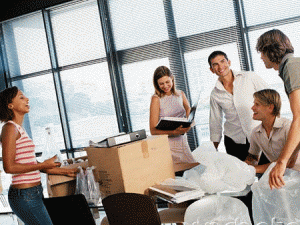 But before you commence the celebrations you must pay to the man and van company that has provided you man and van services and that has assisted you with the execution of your moving project. Also don't be rude and invite the man and van company workers to the festivities as they have worked as hard as you for the successful completion of your office relocation. Even more by being friendly and appreciative you will built a strong bond between your company and the man and van firm and you will be able to benefit from their man and van services for the days to come as well.
Once the final details of the relocation have been taken care of, announce to your employees that the entire staff that has worked on the relocation is invited to a thank you dinner. This way you will demonstrate to your workers your gratitude towards their efforts and you will win their loyalty and appreciations.
Another option is to organize a company party and invite your entire staff, current customers, potential customers, movers and new neighbors. This way you will not only show your appreciation towards your employees but you will also present yourself to your new environment and create for yourself the ideal environment to make new acquaintances and therefore open for your company new business opportunities. If you opt for this type of celebration make sure that you inform everybody by sending invitations at least a couple of days before the party.
Your third and final option is to take the staff that has worked on the removal project to a week-end vacation. This will not only be regarded as a grand gesture of gratitude but it will also serve as an excellent way to go through a team building process. For instance you can take everybody to a nice spa resort and have them relax.
Regardless which celebration you choose at the end you will have a rejuvenated and refreshed staff that will be eager to commence working in the new office and a partner in the face of the man and van company that will always provide you the friend and family package when you are in the need of removal services.
---
About author
Jeremy Oliver




Previously serving as a logistics coordinator, Jeremy's comprehensive understanding of the industry gives him the ability to translate complex procedures into easy-to-understand blog posts. He has a particular knack for tackling the intricacies of London's removals scene, from the congested roadways to the unique challenges of navigating historic neighborhoods. As an authentic Londoner, Jeremy combines practical knowledge with his inherent love for the city, offering readers not only information on man with van removals but also local insights and valuable tips.