The things that an employee should do during an office removal
Your boss has decided to relocate his business to a newer and bigger office building which will grant him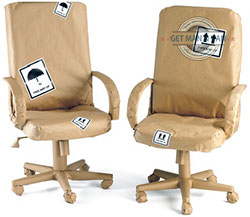 better business opportunities. The only downside of this decision is that you aren't sure what you should be doing during the relocation. If that is your case, keep calm and keep reading because we have written down several pointers which you will find very, very helpful.
The first thing that you and your colleagues must do is to ask your boss what you are allowed and what you aren't allowed to do until the removal is over. Also don't be shy to ask your employer whether he/she is planning to relocate the current office furniture as well. It is important that you know the answer to this question because if your employer is planning to take the furnishings with him you will most likely have to participate in the furniture disassembling and reassembling stages of the relocation. Of course there is always the option that your boss has delegated these two laborious and time consuming tasks to the man and van company that will be conducting the relocation. So once again don't be shy and ask whether the current office furniture will be moved.
Another important questions that you and your colleagues should ask is whether you will be handling the packing of your cubical or office? You should ask this question because some man and van companies provide packing services and your employer may have decided to use these services. If that is your case, you and your colleagues should be extremely happy because you won't be involve in the most annoying and time consuming stage of a relocation.
On the other hand if you will be doing your own packing, always commence the packing of your cubical or office by packing in boxes the content of your file cabinets. Sort your folder and documents into two piles (to take and to throw away) while you are going through your file cabinets. Once you have sorted the content of the cabinets, pack the folders and documents from the first pile and shred and throw away the documents and folders from the second pile. By doing so you will reduce the volume of the moved items and this will be much appreciated by your boss as the lighter the volume of the moved items is, the less your employer will have to pay to the man and van company that is handling the relocation.
Next you should pack your personal belongings and prepare your office desk for the relocation. You can do that by emptying the drawers and dismounting your computer. Also if you are going to conduct the furniture dismounting and disassembly, do it once you have taken care of everything else. Alternatively if the man and van company is going to take care of the furniture then don't do anything and simple take your boxes to the loading area before you call it a day.
By doing these simply tasks you will convert your office relocation into an easy and stress-free venture.
---
About author
Jeremy Oliver




Previously serving as a logistics coordinator, Jeremy's comprehensive understanding of the industry gives him the ability to translate complex procedures into easy-to-understand blog posts. He has a particular knack for tackling the intricacies of London's removals scene, from the congested roadways to the unique challenges of navigating historic neighborhoods. As an authentic Londoner, Jeremy combines practical knowledge with his inherent love for the city, offering readers not only information on man with van removals but also local insights and valuable tips.