Going the distance – relocating to a far away place
Changing your place of residence can be a very exciting and positive thing, especially if the reason for doing this is good.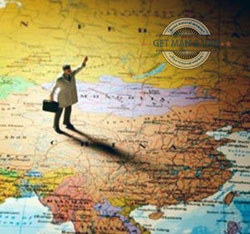 It might be because you have just had the opportunity to purchase the house of your dreams, or you have received a job offer that you cannot simply refuse. Sometimes however these positive changes in your life come with the necessity to move your home to a long distance – relocating from one end of London to the opposite is enough to qualify as a distant removal, it can also mean that you are moving to a different town or even country. This makes the task far more strenuous than if you have just been moving across the district.
Lucky for you, there are several things that you can do in order to ensure that you have a hassle-free far distance relocation experience that will require neither much time nor energy in order to be carried out properly.
Changing towns or even London boroughs can be quite stressful not only for you, but for your family too. It is a good idea to make a thorough research of the area you are moving in to, and make a quick visit to the place. Get your children with you too. Walk around the streets, spot cool places which you can visit once you move in permanently here and make the kids see that your removal is going to be a good thing.
Long distance removals are longer and more complex, so it is of utmost importance to find the best man and van company to help you with the project. This will help you a lot and

save you unimaginable amounts of stress and strain

. Make sure that the man and van contractor that you hire offers full insurance liability for the duration of your removal.
Long distance moves come with inevitable changes. The house you are going to live in is going to be different, but also the neighborhood, the people and even the customs and etiquette that is to be followed in public places. You should make peace with those things if you want to live comfortably in your new home, but you should also make sure that the rest of your family feels the same way.
Regulations and administrative requirements differ from one place to another. There would be a number of new taxes and rules that are to be followed, according to the policies of the local town council. Do your research well and file all the paperwork in advance so that there are no unpleasant surprises (like fines) when you get to the new place. Your personal documents, like ID and drivers license will also have to be changed in order to reflect your change of address – do not forget that.
The most important thing however is to relax – everything is going to be alright in the end. Once you realize that, your move will definitely turn out to be a positive change.
---
About author
Jeremy Oliver




Previously serving as a logistics coordinator, Jeremy's comprehensive understanding of the industry gives him the ability to translate complex procedures into easy-to-understand blog posts. He has a particular knack for tackling the intricacies of London's removals scene, from the congested roadways to the unique challenges of navigating historic neighborhoods. As an authentic Londoner, Jeremy combines practical knowledge with his inherent love for the city, offering readers not only information on man with van removals but also local insights and valuable tips.