Long Distance Moving – What Cannot Be Shipped
Moving long distances or moving internationally is somewhat more specific than medium distance and local property removals, simply because there are more issues and considerations involved in one such project.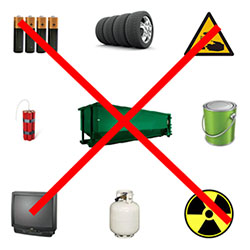 In cases of long distance moving, different man and van removal companies can provide you with different level service coverage. Some man and van service providers are limited by their licensing and technical capacity so they can only conduct nationwide property removals. Others however deal with complete end to end international relocations.
When organising your long distance removal, it is important to consult with your selected man and van company on what can and cannot be transported or shipped. There are many exclusions and exceptions so take the time and effort to make a detailed list of the items and belongings you need relocated. In turn, the man and van company will advise you on how to relocate the items in question safely and legally. In this case, legally is the keyword as crossing international borders with your belongings requires permits, clearances, passing quarantines etc.
Generally, there are six major groups or types of items which cannot be relocated internationally in any shape or form. However, it is important to be advised on any specific regulations covering bans and quarantines local to the destination country or state where you are headed.
The six groups banned items are quite universal and the applicable restrictions are valid for many Western countries, as well as most part of the world. As per the US classification, the first group of banned items which cannot be shipped or mailed is:
Firearms

– one cannot mail or ship any type of firearm either assembled or disassembled through state or national borders;

Alcohol

– one cannot mail or ship any type of alcohol (spirit) through state or national borders, except for mouth hygiene products containing alcohol and cooking wine;

Controlled substances

– one cannot mail or ship any controlled substance including licit and illicit drugs, as well as precursor chemicals used for making drugs, either through state or national borders;

Items and materials emitting obnoxious odours

– any item, material or substance that emits unpleasant, potent or specific odour is not allowed for shipping or mailing across state and national borders;

Animal fighting paraphernalia

– items and materials which are used in, or aid animal fighting in all of its shapes and forms are banned from being shipped or mailed to any destination; in many places owning such items is a criminal offence itself;

Hazardous materials

– one cannot ship or mail any toxic chemicals, aggressive solvents, volatiles, explosives, corrosives, bio toxins etc. through state or national borders;
When shipping an animal, which is not uncommon in long distance moving, owners must be sure and confirm that the animal is able to survive the trip without any water, food or light. Many small birds, and cold blooded animals, apart from snakes and turtles, are considered able to survive the journey.
Perishables are also treated the same – if the item, object, material etc. is able to survive the trip, and be delivered safely and intact, then it can be transported through state or national borders.
---
About author
Jeremy Oliver




Previously serving as a logistics coordinator, Jeremy's comprehensive understanding of the industry gives him the ability to translate complex procedures into easy-to-understand blog posts. He has a particular knack for tackling the intricacies of London's removals scene, from the congested roadways to the unique challenges of navigating historic neighborhoods. As an authentic Londoner, Jeremy combines practical knowledge with his inherent love for the city, offering readers not only information on man with van removals but also local insights and valuable tips.