Moving House – the Service Stages & Options Before Moving Day
Usually the specific or additional options which customers need to secure from their selected man and van removal company depend on the scale and complexity of the actual removal. If this is the first time you have had to move places, then the basic guide below will be quite useful.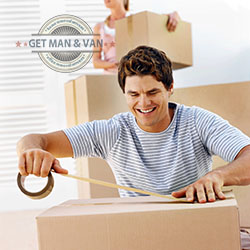 The first stage of any well organised removal is the survey. A survey is basically a preliminary job viewing conducted by one of the man and van company's logistics experts. The survey is done in order to outline and highlight the specifics of your relocation project. This includes discussing and covering any specific requirements you have. These may be to do with packing, storage, specialised transportation for specific or high value items etc. A properly organised viewing will also help logistics people and the removal company to quote you correctly and come up with the most efficient way to conduct the relocation.
Usually, the next step of the removal process is to accept the quotation you have been provided with. Given you are happy with the figures, you need to notify the man and van company via email, phone or otherwise. In return, the movers will send you an acceptance form to fill out. The form will contain all the general terms and conditions applicable to your removal service. You need to read those carefully and understand them properly – clarifying everything in advance will save you a ton of hassles later on.
Once you return the form to the movers, the date of the relocation will be set and confirmed back to you. Three or so days before the removal date, the company will contact you with a reminder. This is not so much to do with reminding you of the removal, but to check if there are any changes or problems that have arisen in the meantime. If there are any issues or concerns on your behalf, be sure to discuss those with the movers in advance. In case there are no changes or any other issues, give the movers the go ahead and standby for commencement of the project.
In case you have opted for professional packing and securing of your belongings. The man and van company will do that, one day before the actual relocation. If the volume and amount of items to be packed is substantial, the movers may need two working days to do so. Packing may seem like tedious and unnecessary at times, but bear with the movers for the time being as good packing means extra safety and peace of mind during handling and transit.
---
About author