Moving house with a dog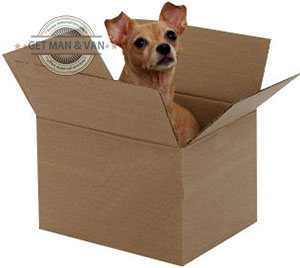 A house removal with a stressful enough experience in its own right, but when there is a dog included in the picture, it becomes even more complicated. In order to make the move less of a shock for your pet, there are several very useful strategies that you can employ.
Dogs realize when there is a change going on in your and their lives

. Remember what your pet's reaction was last time when you went on a holiday without it? Seeing every single item in your household being packed and moved out of the house at once will make it think that you are going away and will abandon him. In order to avoid any such stress start packing early and take your time – the gradual change in the home environment will reduce your dog's worst suspicions.
Keep up with the daily routine

. Dogs love habits, so even at the time of the most stressful preparation for the move, do not forget to take your dog out for a walk and feed it precisely at the same time that you used to before the removal. This strategy is simple to employ, yet it will definitely help reduce the stress.
 

Inform your man and van contractor that you are going to move with a dog

. Most companies have special policies about moving pets, but they also provide you with helpful advice for the moving day. The man and van movers are here to ensure your comfort and peace of mind. It is their job to help you move your dog in a stress and hassle-free manner.
 Do not overlook the safety of your pet during relocation

. Make sure that it has a proper color on its neck when you are moving. Also, have all medical records and date injections at hand in case you need them. Have in mind that most dogs will try to run away and get back to their old house, so keep an eye on your pet at all times during the first few days of your stay at the new place.
Loading and unloading

your items from the vehicles of the man and van company should be carried out without the presence of your dog. Put the pet in an empty room with water and food, as well as a comfortable bed and its favorite toys. On one hand the dog would not be stressed out about what is going on, and on the other it will not get in the way, so that the loading and unloading would be carried out quicker and more hassle-free.
Keeping your dog calm at any time is vital

. Regular walks and feeding, as we have already mentioned above, are vital for achieving that. What will also help is surrounding them with familiar toys. Proper bedding and even their favorite blanket will definitely be of great help for you. Another useful tip for keeping an anxious dog calm is giving it a teaspoon of honey when it gets really nervous.
---
About author
Jeremy Oliver




Previously serving as a logistics coordinator, Jeremy's comprehensive understanding of the industry gives him the ability to translate complex procedures into easy-to-understand blog posts. He has a particular knack for tackling the intricacies of London's removals scene, from the congested roadways to the unique challenges of navigating historic neighborhoods. As an authentic Londoner, Jeremy combines practical knowledge with his inherent love for the city, offering readers not only information on man with van removals but also local insights and valuable tips.