How to move on a short notice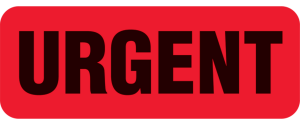 You have at last found the job of your dreams but the only downside is that you must relocated in less than a week or the position will be given to somebody else. Generally relocations take a lot of time but you should not panic, skim over the useful tips that we have listed below and prepare your move in a matter of days.
The first and foremost thing that you must do is to find a new home. The size of your new home will aid your determine which furniture and items you will be taking with you and which you will be leaving behind. For instance if your new home is smaller than your current one, you will have to get rid of some furnishing and belongings given that you won't have enough room for them in your new home. You could always get some cash for those items, just organize a quick garage or yard sale. You'd be amazed how many of your belongings will find a new owner of theirs.
On the other hand if you don't know where you will live, begin sorting your belongings in two piles. The first pile will contain the items that you would definitely need and the second pile – the items that you could get at a later stage when you have already settled in your new home.
Now don't waste time and fool yourself that you'd be able to handle the whole move on your own. Instead find professional removalists in London and hire them to come and transport your belongings. This way all of your items will be moved in one single trip. Even more you can ask the professional man and van movers based in London to came and aid you with the loading and unloading of the moving van. This will speed up drastically the entire moving process.
To facilitate the unpacking and arranging of your new home, make sure that you label each box after you have packed it and sealed it. Make sure that the boxes aren't marked with a single word only. Add a detailed description instead and you could even enlist the various contents of the given container. For instance instead of writing "books", write "literature books, from the living room bookcase". You could also use different note colors for the separate rooms: yellow for the kitchen items, pink for your kid's room accessories, blue for the bathroom vanities, and etc.
---
About author
Jeremy Oliver




Previously serving as a logistics coordinator, Jeremy's comprehensive understanding of the industry gives him the ability to translate complex procedures into easy-to-understand blog posts. He has a particular knack for tackling the intricacies of London's removals scene, from the congested roadways to the unique challenges of navigating historic neighborhoods. As an authentic Londoner, Jeremy combines practical knowledge with his inherent love for the city, offering readers not only information on man with van removals but also local insights and valuable tips.