How to move to college
You have been accepted into the college of your dreams and now you must plan the relocation from your parent's home to your dorm in the college campus.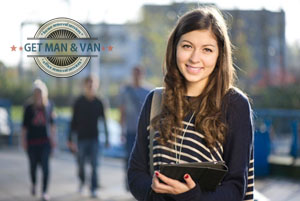 If you have never moved before know that relocations aren't as simple as most people think. In fact according to numerous studies removals are one of the most stressful events that people experience during their lifetime.
The easiest way to go through a swift and smooth relocation is to use professional man and van services. At the moment there are numerous man and van companies in London that provides high quality removal services. So you can be more certain that you will be able to find a moving company to help you with your relocation. Also don't be alarmed about the potential removal fee that you may have to pay because presently almost all man and van companies work with highly affordable prices.
Alternatively if you decide to handle your relocation on your own here is what you should do to ease your removal as much as possible. Start preparing your move long before the actual day in which you will move out of your parent's house. Most relocation experts advise people to commence their preparation at least a month prior of the move. But due to the fact that you won't be moving your entire household but just a small portion of it, you can start your preparation approximate ten days before D-day.
Commence the preparation by going through your belongings and deciding which items you will take with you and which you will leave behind. Keep in mind that most dorm rooms are pretty small, so keep the unnecessary items to a minimum as you won't have enough space to arrange them. Also don't bother taking any of your room furniture with you because dorm rooms are furnished with the essential furnishings.
Now that you have decided what you will take with you, start the packing stage of your relocation. If you don't have empty boxes and bubble wrap you can buy the materials from any supermarket or man and van company that sell packing supplies. While you are packing don't pack your personal documents, admission documents and valuables with your other belongings. Instead pack these particular items separately and always keep them with you because there are your most valuable possessions at the moment.
Also don't bother packing everyday items such as cleaning detergents, bathroom products, paper towels and napkins because you can acquire these items from any store once you have moved. Also don't forget to take at least three sets of bed linens with you.
Last but not least make sure that you have packed all the necessary studying materials and a map of your college campus before you say goodbye to your parents and leave your childhood home.
---
About author
Jeremy Oliver




Previously serving as a logistics coordinator, Jeremy's comprehensive understanding of the industry gives him the ability to translate complex procedures into easy-to-understand blog posts. He has a particular knack for tackling the intricacies of London's removals scene, from the congested roadways to the unique challenges of navigating historic neighborhoods. As an authentic Londoner, Jeremy combines practical knowledge with his inherent love for the city, offering readers not only information on man with van removals but also local insights and valuable tips.