Populating Mars
Our own planet, Earth, is not the biggest one in our Solar system. It's not even the second or third. But to us it used to look pretty large as exploring it fully was (and still is) quite the challenge. In the 21st century, however, the population is rapidly growing. It's safe to say it's getting out of hand. We are on the verge having a population of over 8 billion people by the 2030s. All of a sudden our planet looks small. Furthermore we simply can't stop destroying it. With more and more people we need more and more city or village areas which means we need to chop down trees, build road where we used to have rivers etc. We diminish nature and put concrete over it. It's just what we love doing.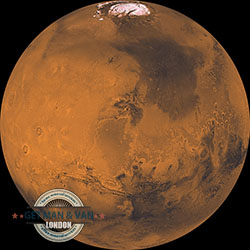 Another thing that is a trade mark of human psychology is the desire to conquer. We are greedy, we want land along with everything it has to offer. Combine this with the fact that we will soon cram like canned fish if don't stop breeding and building like crazy and you get our latest big idea to save humanity – populate Mars.
This used to sound like something Steven Spielberg would come up with, direct, put in cinemas and make a ton of money but we've made serious progress towards making that a reality. With the joint efforts of scientists from all over the world there are theories and now proofs that we might actually be able to inhabit our "Red neighbor". Now if you ask us we'd say that this is still pretty far ahead in the future but in case you haven't heard we are already preparing a mission that will send our first group of colonists to Mars in about 10-15 years. These travelers or should I say adventurers are supposed to fly to Mars, establish a colony and start populating the planet.
It's incredible how many people have already signed up for it too. Are they really this naïve? Do you really expect this to work the first time? I'm sure scientists have thought it through but do we really possess the technology to ship a bunch of people to a desolate world with not the best climate and be able to maintain their lives? How are they going to build that camp? Are we sending only engineers? Even if we do, in order to even build a warehouse you need machinery, tools and other big supplies that are probably impossible to transport to Mars. But even if they do manage to build a shelter, how are they going to be able to continuously breathe without running out of oxygen. There needs to be some sort of filtering system that turns the carbon dioxide back into oxygen. But if we already have that why don't we use it here on Earth at first. In fact we very much need it here now.
And of finally what are these people going to eat there? How does it work? I realize they will bring plenty of food with them to the new world and they will also probably have stashes but it will be enough for only so long. If you are going to give birth to new people there you will need food for decades. Are we going to constantly send crates of provisions with spaceships? I don't know how they will be able to grown their own crops of breed animals for meat. All in all don't count me in for the first or even the second mission to Mars for now.
---
About author
Jeremy Oliver




Previously serving as a logistics coordinator, Jeremy's comprehensive understanding of the industry gives him the ability to translate complex procedures into easy-to-understand blog posts. He has a particular knack for tackling the intricacies of London's removals scene, from the congested roadways to the unique challenges of navigating historic neighborhoods. As an authentic Londoner, Jeremy combines practical knowledge with his inherent love for the city, offering readers not only information on man with van removals but also local insights and valuable tips.