Protection of Furniture Pieces during Relocations
The average house or office removal requires owners and movers to organise the relocation of a whole host of different objects, from small fragile items to bulky furniture pieces and all in between. Small breakables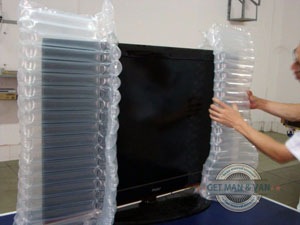 and others such can be packed neatly and safely into boxes, sealed and then expedited for removal, but what happens when items being shifted are furniture pieces which cannot be disassembled down to a convenient transport form? In such cases, let your moving company know about the situation and they will come up with a way to make it happen.
Usually, the process of shifting such furniture pieces is as follows – the piece is carefully disassembled as much as possible. Small parts are tagged and bagged, larger parts such as table tops or desk tops for instance will need specialised protection though. Usually good man and van companies use things called padded removal covers, also known as strong wrap covers. These covers are made of a hard wearing, durable outer layer which in many cases is also water resistant. Underneath the top layer, there is padding. Some strong wrap covers may contain more padding than others. The covers are brilliant at protecting furniture surfaces from dents and scratches. The covers have strong retaining straps in order to fasten and practically seal the furniture piece inside. The straps also allow for easy handling and navigation around tight corners – good news for the premises. These strong wrap covers are usually made to order, but well-established man and van service providers are likely to have a number of these already available.
There are different types of covers, including ones for computer screens, also for flat panel TVs, for office tables and foldable chairs, also covers for white goods – these seal the appliance completely from top to bottom. There are also covers available for arm chairs and sofa sets, mattress covers, piano covers and a special purpose strong wrap 'bag' for pictures, paintings etc. Indeed, these protective devices will cost more to purchase or hire as opposed to conventional packing and wrapping materials, but this will be money well spent as these covers allow for much more protection and much easier handling and shifting of items. In case you are relocating an office, your man & van company may offer you to use special office furniture and electronic equipment covers. In case you will be purchasing the removal covers, manufacturers give customers choice of colour and the option to embroider a company logo or other insignia on them. If you will be hiring or buying these from your man & van service provider, let them know in advance as these covers are usually made to order and will take a little bit of time to get to you.
---
About author
Jeremy Oliver




Previously serving as a logistics coordinator, Jeremy's comprehensive understanding of the industry gives him the ability to translate complex procedures into easy-to-understand blog posts. He has a particular knack for tackling the intricacies of London's removals scene, from the congested roadways to the unique challenges of navigating historic neighborhoods. As an authentic Londoner, Jeremy combines practical knowledge with his inherent love for the city, offering readers not only information on man with van removals but also local insights and valuable tips.