A relocation do to checklist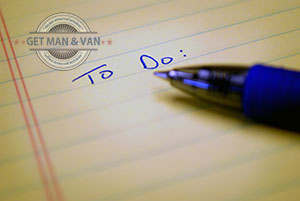 The easiest way to go through a smooth and swift relocation is to draft a to do checklist and start the relocation preparations at least six weeks prior of the move. If you have never drafted a relocation checklist before, relax and continue reading this article because we will present to you an example checklist which you can use as a foundation for your own checklist.
Six weeks

: Start by going through your belongings and deciding which you will be packing and tacking with you and which you will either donate to a charity organization or throw away. Also contact several man and van companies and request from them free quotes so that you can scout them thoroughly without being pressed from time.

Five weeks

: Contact the man and van company that provides the best removal services and book it for your relocation. You must book the removal company early because good moving companies are busy companies and book them at the last minute is literally impossible. Once you have booked the moving company head to your local supermarket and purchase all the packing materials that you will need to pack your belongings.

Four weeks

: Measure your furnishings. You must do so in order to learn which of your current furnishings will fit into your new home and which won't. By taking the measurements four weeks before your move, you will give yourself enough time to sell all furniture that won't fit and make some extra money with which you will buy new furniture.

Three weeks

: Contact your landlord and utility providers and notify them that you are moving. By doing so you will be able to transfer your utility accounts to your new address and you will give enough time to your landlord to find a new tenant for his rental unit.

Two weeks

: Stop doing the groceries and begin packing all non-essential items. Also disassemble most of your furnishings. Leave only the beds and dining table untouched.

One week

: Finish the packing stage of your relocation by packing the remainder of your belongings. Don't make the mistake of packing your personal documents with your other items. Instead pack your documents and valuables separately and always keep them with you. Also contact the man and van company that you have hired to confirm the relocation date.

Relocation day

: Clean your home, free your driveway and wait for the movers to come and commence the relocation.
---
About author
Jeremy Oliver




Previously serving as a logistics coordinator, Jeremy's comprehensive understanding of the industry gives him the ability to translate complex procedures into easy-to-understand blog posts. He has a particular knack for tackling the intricacies of London's removals scene, from the congested roadways to the unique challenges of navigating historic neighborhoods. As an authentic Londoner, Jeremy combines practical knowledge with his inherent love for the city, offering readers not only information on man with van removals but also local insights and valuable tips.