Some of the Most Fabulous British Royal Homes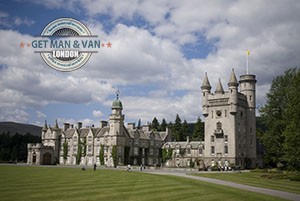 Royal residences have two things in common. By serving as homes to the Royal family, they are somewhat of a symbol of the British Monarchy. The second thing is that it will take much more than a simple man and van service to move them.
Do you know even half of the residences that belong to the crown? We have created a list of some of the most famous among them.
Balmoral Castle was built by Queen Victoria and Prince Charles after they have visited Scotland in 1842. They immediately fell in love with the place and decided that they should make it their home. And we cannot disagree with them – the nature around the castle is breathtaking. Today Balmoral Castle is still the private residence of the Queen in Scotland.
Hampton Court Palace in one of the most peculiar royal residences in London. It used to be property of the knights Hospitalliers. Henry VIII however liked the place and seized it for the crown. The result – one of the most spacious and nicely looking, especially on the inside, royal residence that were ever in possession of the British crown.
We cannot miss to mention Windsor Castle. It was built by William the Conqueror in the 1070s, and ever since it has been the most distinct symbol of the British monarchy. Windsor Castle is a popular tourist attraction and a world-wide known name associated not only with the Queen, but with the UK as a whole as of the present moment.
Edinburgh Castle was home to the Scottish royal family for centuries. King James VI of Scotland, later to become James I of England, was born here. In addition to being a royal seat, the Edinburgh Castle has a very strategic position as a stronghold, located on a pretty high hill above the city. The stunning view is definitely one more reason why the castle is so popular with tourists.
The administrative headquarters of the queen are located in Buckingham Palace, which was built in 1837 and up to this day remains the main seat of the monarch. The palace is located in the very heart of London, and to the general public it is probably best known for the Changing of the Guard ritual, which takes place every summer day at 11:30 am.
The Banqueting House in London is one of the many chambers, lodges and royal seats that have been created by Henry VIII. The House was part of the Palace of Whitehall, which was truly marvelous, but was destroyed by fire, and today only the Banqueting House is left to remind of the former grandeur of the place.
The official home of the Queen in Scotland is in Holyroodhouse Palace, which was built in 1128 – originally as a monastery. The place is truly rich in history. Today it is open to visitors, who can freely roam the great halls of the Holyroodhouse Palace.
---
About author