The Parking in London Guide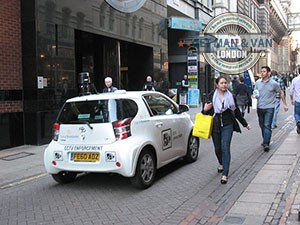 London, being among the largest cities in the world, is so busy especially in terms of traffic that it can sometimes be frustrating. No matter whether you travel to work by car, or you are moving your home with a man and van company, there are so many restrictions, rules and tricks drawn from experience that you have to keep in mind that you can very easily feel lost in the whole process.
Naturally, in order to survive in such a harsh driving environment and be absolutely sure that you will not end up with a fat parking ticket on your account, you should be well acquainted with the rules and regulations about parking in London. We have taken the time to break down the most important among them. It is a good starting point, but have in mind that depending on the district and part of London you are most interested in, different or additional rules may apply, so you should further have to check with your local council too.
Modern technologies actually come in use when we are talking about parking in London. In most streets in the capital there is a pay-by-phone option that you can make use of. Naturally, everywhere you can employ the classical parking meter option. Everywhere across the city such meters are installed. They come with a description of the conditions to use them, so carefully read what is written on the parking meter that you would want to use. There are many places where you can use the parking spot for a minimal amount of time when it is free of charge. There are instances when parking is free after a certain hour or in the weekend.
There are also the so called "parking bays". They are to be found mostly in the busy parts of the metropolis and are always marked with a large white P sign, so watch out for that one. Most often you will be allowed to park for only a certain amount of time in those places especially if you are near the center of the city.
Have in mind that there are days when parking in the streets of London is not allowed. Most parking spaces have certain hours in which parking is allowed – they will be shown on the particular parking sign, so make sure to acquaint yourself with this information, otherwise you face a pretty serious fine, which can

vary from 80 to 130 GBP

.
When you are moving your home using the services of a man and van company, you should have in mind that in most cases you will need a special permit from the local council in order to park the van in front of your property. Check with your local council at least a week before your relocation, so that you can reserve a parking spot at a comfortable distance from your building. This you can trust us will definitely make your life easier on the moving day.
---
About author
Jeremy Oliver




Previously serving as a logistics coordinator, Jeremy's comprehensive understanding of the industry gives him the ability to translate complex procedures into easy-to-understand blog posts. He has a particular knack for tackling the intricacies of London's removals scene, from the congested roadways to the unique challenges of navigating historic neighborhoods. As an authentic Londoner, Jeremy combines practical knowledge with his inherent love for the city, offering readers not only information on man with van removals but also local insights and valuable tips.