Best Christmas Markets in London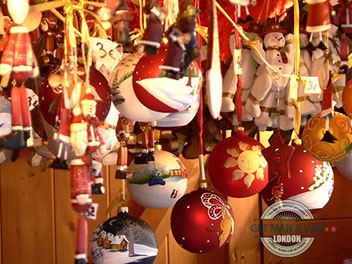 Well, it is that time of the year again. Get around to doing your Christmas shopping and do it right in order to ensure the best Christmassy atmosphere on your holiday. You will find all that you need and are looking for on the list on the list of the best Christmas markets and fairs in London that we have created specifically to help you. Have no fear, even if you indulge yourself in binge shopping, you can always call for a man and van to help you bring your purchases home.
Barbican Christmas Market is traditionally held for 10 days around the holidays and hosts as many as 35 independent designers who are going to supply you with the necessary clothes, arts and crafts, jewellery, books and toys to make your Christmas shopping complete and satisfactory.
The Tate Modern also host a Christmas market that is unconventional, rich and very entertaining to attend. From decoration to hand-made toys, you will find everything that you need in order to both decorate your home according to the season and find great presents for your loved ones.
Another venue that you should check out is the Hyde Park Winter Wonderland. It is a market and a fair in one place, which means that while you are indulging in your shopping and looking around you will have the chance to enjoy constant singing and playing of holiday-themed music that will enable you to fully immerse in the Christmas atmosphere – which is kind of the purpose of the whole exercise, right?
One of the oldest and best loved Christmas Markets in London is the More Christmas London market which this year will be rebranded as the London Bridge Christmas Market. It is held in traditional German style chalets which offer everything – from handmade decoration and toys to delicious food. It is probably the most frequented market on our list, a direct result of its very favorable location and the quality of the whole affair.
If you want to go an event that bears the potential to satisfy all your culinary tastes, then the Real Food Christmas Market is the place for you. This year it will take place outside King's Cross St Pancras station and you will have the chance to browse through selection of sustainably and ethically produced fine foods that have been adjusted to the season as well. Expect meat, Christmas puddings, and a lot more ready-to-eat delights that await the hungriest among you.
Once you are done with the shopping, the only thing that would be left for you is to enjoy the beauty of the season. Why not go out and take a look at the beautiful Christmas lights that lighten up London and make it look like a fairytale land? Some of the best Christmas lights in the city are traditionally on Bond Street, at Covent Garden and Regent Street. Oxford Street also offer quite a show with as many as 1778 snow-ball like decorations this year.
---
About author
Jeremy Oliver




Previously serving as a logistics coordinator, Jeremy's comprehensive understanding of the industry gives him the ability to translate complex procedures into easy-to-understand blog posts. He has a particular knack for tackling the intricacies of London's removals scene, from the congested roadways to the unique challenges of navigating historic neighborhoods. As an authentic Londoner, Jeremy combines practical knowledge with his inherent love for the city, offering readers not only information on man with van removals but also local insights and valuable tips.