Best Traditional British Restaurants in London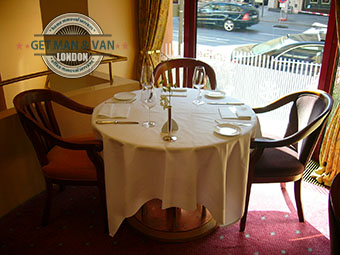 London is home to some of the finest restaurants in the world. However not all of them offer tasty traditional English delicacies to its guests. Here are the best all British eateries in the city.
Rules

: Located in the heart of Covent Garden, Rules is credited to be London's oldest restaurant. It was established in 1798 and since then has been serving traditional British dishes to its visitors. The eatery is known for its tasty game and oysters delicacies and its mouthwatering pies and puddings.

Quo Vadis

: Quo Vadis opened doors during the mid-1920s and quickly become one of Soho's finest restaurants. It has stained glass windows, parquet floors and a vintage ambiance that will take you back in time. It is renowned for its smoked eel and horseradish sandwiches. Other items on the menu include liver and onion dishes and pheasant pie. Quo Vadis also offers a rich selection of different beverages, so you can celebrate your successful removal to London via man and van services.
The Goring Dining Room: One of London's most opulent restaurant's the Goring Dining Room is frequented by British politicians, celebrities and royalties. It was opened in 1910 and in 2005 was the subject of a major remodeling project which was supervised by renowned furnisher Linley. The eatery is highly acclaimed for its tasty menu which included astonishing delicacies such as custard tart and beef Wellington.

Simpson's in the Strand

: If you are a meat and fish aficionado then you should definitely visit the Simpson's in the Strand. Opened in 1828, it is one of London's oldest still functioning restaurants and has a beautifully ornate interior which will make you feel cozy and welcomed. The speciality of the house is Scottish beef on the bone, which is always carved in front of you on a vintage silver-dome trolley. A serving tradition that the restaurant has since its foundation.

Roast

: Roast is known for its immense traditional British menu which includes dishes such as potted shrimps and roast beef. The products used for the creation of the delicacies come from the nearby Borough Market. It also offers a wide range of English wines and cheeses to its guests. So, if you are relocation is over and you need to wind off, make sure to reserve a table at the Roast. But before you do so, arrange all the details with the man and van company that assist you with your move.

St. John

: House in a former smokehouse, St. John has a traditional British ambiance and follows a cooking tendency where all parts of the meat are edible. It is managed by Chef Fergus Henderson, one of the finest cooks in the English capital and offers to its guest amazing dishes such as pigeon with radishes and barley, and smoked Gloucester Old Spot.
Corrigan's Mayfair: Despite its luxurious interior this top notch restaurants offers a very traditional menu to its visitors. All the dishes are prepared by Irish chef, Richard Corrigan who handpicks all the ingredients from local shops and producers.
Honourable mentions:
Kensington Place
Wiltons
The Rib Room
The Northall
The Bingham
Boisdale of Belgravia
---
About author
Jeremy Oliver




Previously serving as a logistics coordinator, Jeremy's comprehensive understanding of the industry gives him the ability to translate complex procedures into easy-to-understand blog posts. He has a particular knack for tackling the intricacies of London's removals scene, from the congested roadways to the unique challenges of navigating historic neighborhoods. As an authentic Londoner, Jeremy combines practical knowledge with his inherent love for the city, offering readers not only information on man with van removals but also local insights and valuable tips.