Five reasons to love London
If you have just moved to London, the people from the man and van company have unloaded the boxes at your new home and you start feeling a bit depressed or unsure about your future life in the capital, remember that there are dozens of reasons why you should be happy that the fortune brought you to London. Let's have a look at some of them:
1)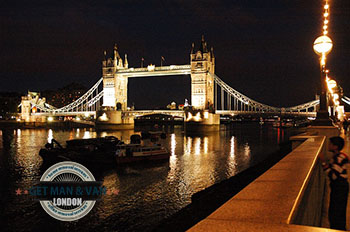 London is the oldest and largest city of Britain. The cultural and historical layers, brought together by centuries of developments, create an unique atmosphere – and when we say unique, you mean that you will not manage to find the same anywhere in the world!
2) London is the commercial and business centre of the world. For decades only New York City and Hong Kong can compete with the financial thrive of the City (and Canary Wharf lately), but even they do not come too close. Tens of thousands of businesses are based here, including some of the largest and most powerful international companies as of today. If career realization is what you are looking for, your best chances of finding it are in London.
3) Don't come for the weather, come for the culture! Or rather, for the mix of culture. London is home to so many international communities that there is no need to even try to enumerate them all. Think of a nation, religion or culture that can be found on the planet today, and you are guaranteed to find it in London as well. This fact alone contributes to the unique landscape that London is. Different communities were formed in the separate districts of the capital, thus creating the illusion that you are not in one city, but in many at the same time.
4) London is a major educational centre. In addition to the world famous University College London and the London Business School, there are King's College London, Birkbeck, Royal Holloway, the School of Oriental and African Studies, St. George's Hospital Medical School, The Royal College of Drama, e University of Westminster, London South Bank University, University of Greenwich, University of East London and so many more. If you want to get a decent education in the United Kingdom, you will defiantly find the opportunity for that in London.
5) No matter whether you live or work in London, you will have no problem reaching your work place or university no matter how far from it you live.  The thing is, London's transportation system is among the best and most comfortable in the world. The bus system, the railway and the Tube, of course, make commute on a daily basis a rather hassle-free task. Travelling from even the remotest spot of Greater London to the City can take up no more than half an hour of your time thanks to that fact. It might be a bit confusing at first when you try to figure out which line you should take, but it is not that hard to get used to it all, especially with modern technology at your disposal – you can always check up your next stop on the Internet.
---
About author
Jeremy Oliver




Previously serving as a logistics coordinator, Jeremy's comprehensive understanding of the industry gives him the ability to translate complex procedures into easy-to-understand blog posts. He has a particular knack for tackling the intricacies of London's removals scene, from the congested roadways to the unique challenges of navigating historic neighborhoods. As an authentic Londoner, Jeremy combines practical knowledge with his inherent love for the city, offering readers not only information on man with van removals but also local insights and valuable tips.