International Removals FAQs
Moving your office or household abroad is a serious project which must be organised and executed by qualified professionals who have the necessary experience and expertise. Most of the removal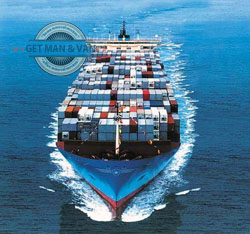 companies and man and van service providers which deal with international removals will be able to provide customers with a complete service package which covers the entire removal process from start to end. However, there are companies which don't deal with the entire spectrum of requirements set forth by international removals, this is why you need to ask the right questions before committing to a given service.
If this is the first time you have ever had to move internationally, the project can seem like an almost impossible challenge, asking the right questions though will help you better understand the process, and what is required of you. First of all, ask the movers if they can realistically complete your relocation within the specified amount of time – this is especially important if you have made arrangements at your new destination. Sometimes, starting and completing the project a number of days ahead of schedule might actually be a good thing.
The next essential aspect after planning is packing, this especially important for businesses and commercial establishments which must relocate equipment, machinery etc. Professional packing and securing of the load is absolutely essential, though it takes time, skill and effort. Ask if the movers can do this for you, or you will have to do your own packing. Ask if you are allowed to transport all the items on your list, some countries have restrictive policies, or are in a state of permanent quarantine, example US, Canada and Australia. If you are moving a household, ask if the removal company or man and van service provider is allowed and willing to transport pets. In most instances, pet animals can be relocated after certain procedures and registration requirements.
Once the basics are clarified, move onto paperwork. Moving internationally involves filling out customs forms, sending and receiving permits and documents etc. which can be a mess at times. Good moving companies should have the expertise and licensing to deal with all the paperwork on your behalf, they should also represent you before the shipping company – If you are transporting goods by sea. Insurance and liability are vital during international removals so make sure to clarify everything and be informed of insurance coverage and possible exceptions.
---
About author
Jeremy Oliver




Previously serving as a logistics coordinator, Jeremy's comprehensive understanding of the industry gives him the ability to translate complex procedures into easy-to-understand blog posts. He has a particular knack for tackling the intricacies of London's removals scene, from the congested roadways to the unique challenges of navigating historic neighborhoods. As an authentic Londoner, Jeremy combines practical knowledge with his inherent love for the city, offering readers not only information on man with van removals but also local insights and valuable tips.