UK Man & Van Removals – Facts & Stats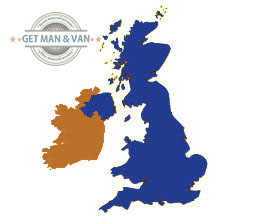 This is a compilation of the definitive facts and stats about professional man and van removals in the UK. It should make for an interesting read, so check out the figures and learn something new!
Currently, there are about two and a half million removal vans roaming the UK roads, relocating homes and businesses on a daily basis. This means that there is one man and van removal vehicle available to twenty four members of the UK population.
On average, the distance travelled by a man and van removal vehicle on an annual basis is nine thousand four hundred and twenty six miles (9426mi). This is the equivalent of driving across the UK thirteen and a half times.
Man and van removal vehicles relocate goods and items from one place to another, the average value of the contents of each load moved by these vans is about one thousand and twenty six pounds.
Removal drivers are qualified professionals, and many of them have experience in international cargo transport. UK Stats show that sixty eight percent (68%) of currently employed man and van removal drivers have no insurance claims whatsoever.
Interestingly enough (and contrary to the common cargo driver stereotype that comes to mind) man and van removal drivers are keen book readers. More than half of all man and van removal drivers currently employed in the UK read books on a regular basis.
It turns out the average removal driver is not only into books, but also into making out. A survey has shown that one in twenty man and van removal drivers (that's 1/20) has had 'a romantic engagement' in their van. Sweet!
It is estimated that moving one billion (yes with a 'b') Cheesy Wotsits (a type of cheese flavoured corn puff sold in the UK) would take about seven hundred and seventy two (772) regular size removal vans.
There are probably a million other facts and stats to do with man and van moving, but the dynamics behind the UK's removal industry are driven by a large number of economic, social and administrative factors. For instance, the annual turnover of the man and van removal industry in the UK is directly related to what's going on in commercial and residential property market. The UK's removal industry was dealt a serious blow during the financial downturn from five years ago – a situation common for many developed countries. Recent stats however show a positive change, and the man and van removal industry in the UK is expected to recover in full, and even grow at a compound annual rate of five and a half percent for the period twenty fourteen – twenty fifteen. For the same period, analysers predict that the UK removal industry will generate nearly nine hundred million pounds in profit. A three percent increase as compared to twenty thirteen figures. Perhaps one of the main problems faced by the professional moving industry right now is the increasing fuel costs which do have a negative effect on business.
---
About author
Jeremy Oliver




Previously serving as a logistics coordinator, Jeremy's comprehensive understanding of the industry gives him the ability to translate complex procedures into easy-to-understand blog posts. He has a particular knack for tackling the intricacies of London's removals scene, from the congested roadways to the unique challenges of navigating historic neighborhoods. As an authentic Londoner, Jeremy combines practical knowledge with his inherent love for the city, offering readers not only information on man with van removals but also local insights and valuable tips.