London's leading fast food chains
Once your home relocation is done – the boxes are unloaded and the man and van company people are gone, the last thing you are going to have the energy for is to cook. The bad news is that you are going to have some food for dinner for you and your family, especially after the exhaustion of the day you had. If you do not have the energy to go out for a bite, it might be a good idea to order food from some of the fast food chains that are servicing your area of residence. Fortunately for you, London has some of the best fast-food chains in Europe – such that are tastier and healthier than the most commercial brands such as McDonalds, KFC and Burger King.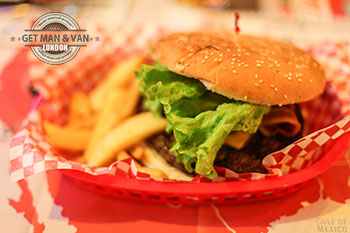 Some of the places that we recommend you to check out include:
Leon – basically gourmet food delivered in a box. Leon currently has over 20 locations scattered across the territory of the capital. There is a breakfast, lunch and dinner menus here, including items such as poached egg pot and saucy beans, pork chili and ruby mackerel and lentil salad. One of the most recommended items on the menu is the Chicken and chorizo club.
Poppies serves fish and chips with mushy peas. There is a shop in Camden Town as well as in Spitafield. The owner, Pop Newland, has been in the fish and chips business in East End all his life. Halibut, code roe, skate, rock, plaice, and mackerel are just a few of the most popular choices when it comes to the fish. Cod and chips are the most recommended option.
Chicken shop, to be found in Tooting, Kenish Town, Whitechapel, and Holborn, is the premier fast food chain for chicken and derivatives in London. The best part about this venue is the freedom you have to customize your menu according to your tastes. You can pick up between hot and smoky chicken with quite a few side dishes too – crinkle cut fries, coleslaw, or corn on the cob The must try item on the menu this time is in the deserts section – the apple pie is simply brilliant.
Pret a Manger is the fast food chain that would be perfect for you in case you are into the all natural, healthy living. Currently this is one of the most popular chains in England, with over 300 stores all over the country, many of which are in London. You will most probably will be having at least one near you. They specialize in sandwiches that avoid preservatives and chemicals of any kind, instead focusing on all natural ingredients. The menu consists of sandwiches, sushi, salads and much more. The traditionally American smoked salmon and butter sandwich is one thing you should definitely check out.
These are just a part of the most popular options that you have before you. As you can see, it is not necessary to spend a lot of money or time in order to have a good meal after work, or after moving homes – you just need to know the right places.
---
About author
Jeremy Oliver




Previously serving as a logistics coordinator, Jeremy's comprehensive understanding of the industry gives him the ability to translate complex procedures into easy-to-understand blog posts. He has a particular knack for tackling the intricacies of London's removals scene, from the congested roadways to the unique challenges of navigating historic neighborhoods. As an authentic Londoner, Jeremy combines practical knowledge with his inherent love for the city, offering readers not only information on man with van removals but also local insights and valuable tips.