Mercedes-Benz Sprinter – Transcontinental Reliability and Commercial Capacity
Mercedes-Benz Sprinter is a popular light commercial vehicle first built and produced by the German company Daimler AG of Stuttgart (the official manufacturer of Mercedes-Benz vehicles). Having proven its worth, the Sprinter vehicle concept has been mass produced by a number of other vehicle manufacturers including Volkswagen, Dodge and Freightliner. However, the North American Sprinters built by Freightliner use the CKD system which stands for complete-knock-down kit (a different form of assembly system to the one used by Mercedes in Germany). On a global scale, the main manufacturer of Sprinters remains Mercedes-Benz.
The Mercedes-Benz Sprinter made its debut on the European stage in nineteen ninety five. The vehicle was supposed to replace its famous, but now aging predecessor Mercedes-Benz TN – a van dating back to nineteen seventy seven. The Sprinter was almost immediately voted and awarded International Van of the Year 1995. The Sprinter was also officially launched in North America, though its US and Canada debut came six years later in two thousand one. In the US and Canada, the Sprinter was marketed under three different names and badges: Mercedes-Benz Sprinter, Freightliner Sprinter and Dodge Sprinter. Initially, the company responsible for putting the Sprinter on the market in the US and making it a success was DaimlerChrysler Vans. The company was solely responsible for the sprinter on the North American market, from supply of spares and maintenance to actual sales and marketing schemes. Three years later in two thousand four, these responsibilities were officially transferred to Chrysler Commercial Vehicle Division. In the case of Dodge, the Sprinter was used to replace its aging Ram Van model, which used the same basic chassis since the nineteen seventies. A batch of Sprinters produced from two thousand one to two thousand six were actually partially assembled in Dusseldorf, Germany and then shipped for final assembly to the company's North Carolina Plant. The first generation of Sprinters were a huge international success and Mark1's remained in production until two thousand six.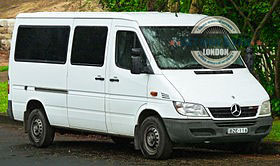 Pictured: 2001 Mercedes-Benz Sprinter Mk1 (Australian Version)
Engines on Mk1 Mercedes-Benz Sprinter
2.3 Litre 4 Cylinder Diesel (non-turbo), 79 Horsepower
2.9 Litre 5 Cylinder Turbo Diesel, 102 Horsepower
2.9 Litre 5 Cylinder Turbo Diesel, 129 Horsepower
2.3 Litre Double Over Head Cam (DOHC) 4 Cylinder 16 Valve MPI, 143 Horsepower
A curious fact – the Sprinter was sold under the name of T1N in Japan, as Toyota had already reserved and used the name Sprinter for one of their high-performance Corolla models.
Two thousand six saw the European release of the Sprinter Mark2. A sleek designed vehicle featuring many extras as well as outstanding fuel economy was an instant hit and was again voted Van of the Year for 2007 and 2008. However, Mk2 Sprinter had a pronounced problem with body rust. In the US, Mark2 Sprinters were sold under the name NVC3 (new van concept) – officially on the market from two thousand seven. The North American Sprinter Mark2 (NVC3) gave owners a number of options in terms of wheelbase and load capacity. The vehicle could be ordered as short wheelbase, standard wheelbase and extended wheelbase. The van came in two payload capacities – twenty five hundred kilos and thirty five hundred kilos. Many of the Mark2 Sprinters were produced in Argentina, the country exported vehicles for more than forty other nations.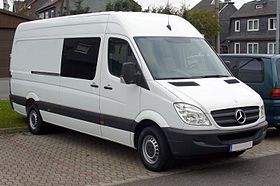 Pictured: 2007 Mercedes-Benz Sprinter Mk2 (German Version)
Engines on Mk2 Mercedes-Benz Sprinter
2.1 Litre, 4 Cylinder Common Rail Diesel, 82 Horsepower
2.1 Litre, 4 Cylinder, Common Rail Diesel, 109 Horsepower
2.1 Litre, 4 Cylinder, Common Rail Diesel, 129 Horsepower
2.7 Litre, 5 Cylinder, Common Rail Diesel, 156 Horsepower
2.3 Litre, 4 Cylinder, Double Over Head Cam, 16 Valve MPI, 143 Horsepower
The second generation of Sprinters released in two thousand six was in production until two thousand thirteen. Over this seven year period, the vehicle had seen a number of upgrades, facelifts and improvements, as well as introduction of different versions and modifications of the cab and chassis. However, major changes came in twenty thirteen when the Mark2 got an extensive upgrade and facelift. The Euro spec Sprinters received a bunch of extras like a range of assistance/safety systems which included Crosswind Assist, Collision Prevention Assist, Blind Spot Assist, High Beam Assist and Lane Keeping Assist. The European version of Sprinter for the twenty o six – twenty thirteen period also received numerous design and function improvements which made the vehicle more pleasant to the eye, and more comfortable and safer for drivers and passengers. Mk2 Facelift Sprinters with were available for pre-production ordering in early twenty thirteen, with expected delivery dates within last three months of the same year. Although Mark 2 Sprinters' US debut was delayed by half a year or so, North American customers received many options, versions and modifications including a selection of powertrains, gearboxes, wheelbase, cab and chassis styles etc.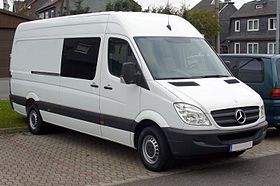 Pictured: 2014 Mercedes-Benz Sprinter Facelift
Engines on Mk3 Mercedes-Benz Sprinter
2.1 Litre, 4 Cylinder, CDI (Common Rail Diesel)
3.0 Litre, 6 Cylinder (V) CDI (Common Rail Diesel)
3.5 Litre, 6 Cylinder (V)
As mentioned above, the Sprinter range was diversified with a number of new versions and modifications available for the two thousand thirteen (onwards) model. One of the more interesting ones is the Sprinter Camper Van (non-commercial), also known as Sprinter Cab Chassis (a less tricked out version). The camper van features a proper living area, a seating area with a small kitchen box as well as many creature comforts and extras for passengers. The vehicle even has its own bathroom and toilet, and an integrated set of wardrobes. High end versions of the Sprinter Camper Van came with full LED illumination and genuine Mercedes-Benz leather interior, upholstered in Alcantara. The Cab Chassis Sprinter featured a unique low frame structure which made it stronger and more stable at high speeds, especially with the new independent suspension. The Cab Chassis Sprinter could be ordered with a plexiglass cover/roof.
Another popular version of the Sprinter released as part of the twenty thirteen upgrade range, was the 4×4 Sprinter. The 4WD version of the Sprinter van came out with a decent number of engines and gearboxes to choose from, including an LPG engine. The entire range of Sprinters will be available in the US and rest of North America from twenty fifteen onwards.
In twenty fourteen, the Sprinter saw another major facelift and upgrade. The sleek new exterior features make the vehicle easily recognisable. US customers will be glad to know that Mercedes-Benz are aiming to improve fuel efficiency even further, and are releasing a more economical engine with increased dynamics and performance. The twenty fourteen refresh will also introduce many of the assistance systems which were available on the Euro spec version, to the US market. Heavy duty Sprinters (the thirty five hundred kilo payload version) will also be available with air suspension. The US model features iPod integration, LED illumination and satnav system.
The crème de la crème of the twenty fourteen refresh is the Sprinter Airstream Autobahn – a version entirely designed, engineered and assembled by Mercedes-Benz in Germany. The vehicle stands out of the crowd with a power sliding door, wood trim interior, genuine leather seats, dual refrigerator, power footrests, heated seats and power outlets including a USB port. The Airstream also comes with a fully functional desk and work area, and automatic control of heating, cooling and illumination.
---
About author
Jeremy Oliver




Previously serving as a logistics coordinator, Jeremy's comprehensive understanding of the industry gives him the ability to translate complex procedures into easy-to-understand blog posts. He has a particular knack for tackling the intricacies of London's removals scene, from the congested roadways to the unique challenges of navigating historic neighborhoods. As an authentic Londoner, Jeremy combines practical knowledge with his inherent love for the city, offering readers not only information on man with van removals but also local insights and valuable tips.