Moving Entire Structures – the Equipment & Procedure Lowdown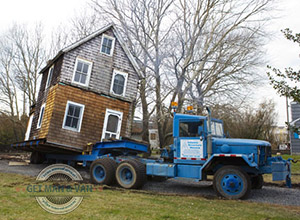 Moving entire houses is tricky business by anyone's standards therefore doing it requires a set of tricked out equipment in order to get the job done right. Proper procedure and following steps in the right order is essential as skipping stages or not doing things in the correct order will simply fail the project right there and then.
Usually, first step of the removal process is to lift the structure as a whole. This is done using special steel framework that is fitted underneath and around the structure in order to support it and maintain its rigidity. Once the framework is in place and the structure is secured, then removal engineers will perform the next step of the process – placing and fitting a system of powerful hydraulic jacks underneath the structure. The jacks have unified, remote computer control meaning they rise or lower independently of one another in order to detach the structure from its foundations, whilst compensating for terrain and keeping everything stable. Back in the old days, movers had no access to high powered hydraulics and their weapon of choice was to use screw jacks, also called jackscrews. These devices were turned and operated manually which made the job a little more dangerous and complex.
Obviously, moving entire houses is not your average man and van removal. This is more complex and requires a lot of expertise and manpower. Once the jacks (whichever system used) have lifted the structure off its foundations, removal teams are send in to construct the cribbing. Cribbing, cribs or box cribs as piles of wood beams, arranged in special order. They are used for supporting the structure while the flatbed trucks are manoeuvred into place under it. The alternative of using flatbed semis for the relocation is to place the structure on hydraulic dollies (much larger and more powerful than those you see on general purpose man and van property removals).
Transportation is also quite an ordeal as the structure has to be hauled at a very slow and steady pace. Every excess vibration, sharp turn or jerky move can cause structural damage, or tip the structure off the semi thus making an epic mess of the project. Once the thing is painstakingly manoeuvred into place, all the steps listed above are done in reverse order. Meticulous planning and nerves of steel (needless to mention skills) are the make or break aspects of any whole structure removal project.
---
About author