Moving Kit Essentials – Tape and Tape Dispensers
One of the most important and necessary items in any moving kit is the packing tape and tape dispenser.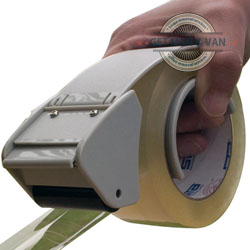 Tape may not seem like the most essential item in the kit, but just imagine having to seal every box or securing each item using ropes or straps – it would be a tedious, time consuming and inefficient. Man and van companies use a number of different packing tapes, some of them heavy duty others not so much. The most common type of tape used by man and van service providers is the so called standard tape. Standard packing tape is either clear or buff i.e. brown coloured. Standard tape dimensions are forty eight millimetres wide, and the roll has a total length of sixty six metres. A variation of these is the wider, fifty millimetre clear standard tape. Buff (brown) and clear standard packing tapes are considered to be medium strength and meant for relatively light applications.
Next up on the ladder is polypropylene buff tape. This particular tape is much stronger than its counterparts mentioned above. The tape roll has the same dimensions and length as those standard packing tapes, but it is extra strong compared to them. Man & van service providers prefer the polypropylene tape particularly for domestic property removals.If you need to relocate breakable items, and you have opted for doing your own packing, then it would be a good idea to signal the man and van personnel which boxes are fragile and which not, by sealing your breakables with a FRAGILE sign tape. In the UK, fragile sign tape is wider than standard packing tape by twelve millimetres.
Perhaps, one of the strongest packing tapes favoured by professional man & van companies is the low noise, extra strong clear tape. This particular tape is ideal for heavy duty home removals as it is relatively flexible but doesn't lose much of its strength when stretched.
Last but not least in the professional mover's arsenal of equipment is the invaluable tape dispenser. Anyone who has sealed large amounts of boxes knows how helpful the dispenser can be. Also known as a tape dispenser gun, this clever device allows movers to lay tape evenly and quickly, even on awkward surfaces and angles. Tape dispensers are handheld, they are not power operated but manual. When purchasing a tape dispenser, remember that each device has a certain width that matches a particular type of tape, so you need to decide which size tape and dispenser you require. In general, good quality tape dispensers are low noise, they have adjustable tape tension brake and most dispensers have a hand guard at the business end. For additional tech specs on tapes and dispensers you can turn to your selected man & van service provider.
---
About author
Jeremy Oliver




Previously serving as a logistics coordinator, Jeremy's comprehensive understanding of the industry gives him the ability to translate complex procedures into easy-to-understand blog posts. He has a particular knack for tackling the intricacies of London's removals scene, from the congested roadways to the unique challenges of navigating historic neighborhoods. As an authentic Londoner, Jeremy combines practical knowledge with his inherent love for the city, offering readers not only information on man with van removals but also local insights and valuable tips.