Moving Kits 101
Moving places is a technical and complex process that requires doing things in specific order. One of the most important aspects of property removals is effective packing of items being shifted. Good packing allows for more protection of people's belongings during handling and transit.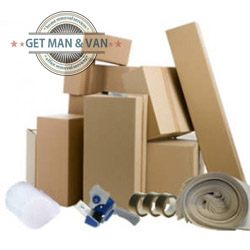 Any man & van company that knows how to do things right will affirm the importance of good packing.
Man and van service providers or specialised stores usually sell complete packing kits also known as moving kits. Moving kits are usually made up of heavy duty, double wall cardboard boxes of at least two different sizes. The larger the moving kit the more supplies and size boxes it will contain.
Another item in the moving kit is the wrapping paper. The average moving kit sold in the UK contains about two hundred sheets of wrapping paper. Packing paper is very effective when looking to protect crockery or other delicate china from scratching and rubbing against one another.
Next in the kit is bubble wrap – the wrap helps protect fragile items and breakables during the removal process. Keep in mind that bubble wrap helps but is not a universal solution. Bubble wrapped items need to be well-arranged and sitting tightly in boxes or next to each other. When items are rolling around unsecured, they are likely to break regardless of them being bubble wrapped. Packing tape is one of the other essentials in the moving kit. Packing tape has multiple uses – it holds items together, seals boxes, limits movement of items being transported, plus it can be used for labelling – the tape adheres to almost any surface and can be written on using a marker.
Last but not least, the moving/packing kit contains a felt tip marker as listing and labelling the contents of boxes or bags being moved is essential for keeping track of things during the removal. A good man and van company will be able to provide their customers with the complete moving kit at a decent price. Should customers have specific moving and packing requirements, their selected man and a van company should be notified in advance as they need to organise for the supplies and materials – this is especially important when relocating large properties, or the contents of multiple identical rooms or office cubicles. Specialised or professional moving kits may also contain additional materials and supplies. For example, weatherproof foil or plastic is wrapped around packed boxes and items in case of rain, moisture or snow. The plastic is then heat sealed for extra protection from the elements. Special purpose CD and record moving boxes are also included in some of the moving kits. Packing tape guns are available too with some of the professional grade kits.
---
About author
Jeremy Oliver




Previously serving as a logistics coordinator, Jeremy's comprehensive understanding of the industry gives him the ability to translate complex procedures into easy-to-understand blog posts. He has a particular knack for tackling the intricacies of London's removals scene, from the congested roadways to the unique challenges of navigating historic neighborhoods. As an authentic Londoner, Jeremy combines practical knowledge with his inherent love for the city, offering readers not only information on man with van removals but also local insights and valuable tips.