Moving & Lifting Tools for Professional Movers
The property removals industry might seem like a purely manual exercise where men are hauling items in and out of different properties all the time. Indeed, hauling things up and down stairs is an integral part of the job. Having said this, there is a range of manual and power operated moving and lifting tools available to professional movers and man and van service providers.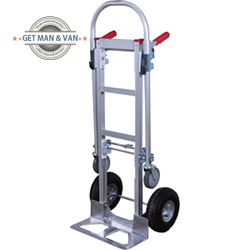 In many instances, use and application of lifting and moving equipment onsite is limited or not applicable at all due to lack of physical space, or in case items being moved are too delicate and must be handled manually. Specialist equipment companies have diversified the range of moving and lifting equipment thus giving professional removalists and man and van service provides more flexibility and functionality.
The most widely used piece of moving and lifting equipment is the so called hand truck. The hand truck can be viewed as a removal wheel barrow, although the two carts are quite different in design, purpose and strength. Generally, there are four versions of the hand truck available to professional removalists. Most of the hand trucks have dual application function which means they can be used to haul items horizontally, or vertically. The chassis of the hand trucks is either metal or nylon. Nylon chassis hand trucks provide for sufficient strength and weight capacity although they are made of a composite material. A special purpose variety of hand trucks is also available to movers, these are the furniture dolly, and the appliance truck. All hand trucks can be purchased with special wheel covers so that flooring surfaces are spared from scuffmarks and scratches during hauling.
Where manual handling of items is needed, removal professionals can rely on the so called forearm kits. The forearms are specially designed belts which are strapped around large, heavy or bulky items like mattresses, washing machines etc. in order to move them safely without risking personal injury or property damage. The forearm kits come in a variety of sizes and strengths.
A variation of the forearm belts, is the shoulder dolly. This piece of kit is worn by the mover but at the same time it is attached to the item being hauled. This allows for more control while moving without risking personal injury. Strap on handles for boxes and other small sized, heavy items are also available to moving professionals through specialist suppliers.
---
About author
Jeremy Oliver




Previously serving as a logistics coordinator, Jeremy's comprehensive understanding of the industry gives him the ability to translate complex procedures into easy-to-understand blog posts. He has a particular knack for tackling the intricacies of London's removals scene, from the congested roadways to the unique challenges of navigating historic neighborhoods. As an authentic Londoner, Jeremy combines practical knowledge with his inherent love for the city, offering readers not only information on man with van removals but also local insights and valuable tips.