How to relocate and get acclimatized smoothly?
If you are about to move to a foreign country keep reading as we will turn your attention on several tips that will allow you and your family to easily relocate and get acclimatized with the new surroundings.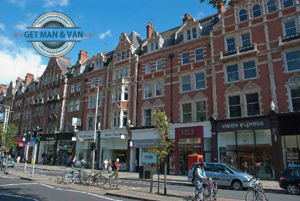 Finding a good and reliable man and van company that provides international services is arguably the most important thing that you must take care of. You will be able to find such a company by going through the man and van services section of the yellow pages or by reading the man and van ads in the local newspapers. Also before you decide to hire a particular man and van company, call it to request a free quote. By reading their quote you will get a better idea about the man and van services that you will receive and the price that it will cost you. If the quote seems too elevated or doesn't satisfy your needs, simply move to the next company until you find the perfect one.
Next sit down with your family and discuss which of your belongings you will be taking with you and which you will leave behind. It is for the best if you leave bulky items such as the couch, dinner table, oven, fridge and etc behind as they will take a lot of space and therefore will drastically elevate the moving fee that you will have to pay. Also try to take as few pieces of memorabilia as you can. After all you are beginning a new chapter in your life so simply try to leave the past behind.
Before you commence packing your bags, take some time to learn more about the country to which you and your family are moving. Also surf through the internet to learn more about your new neighborhood and the amenities that it holds. Today schools and other public establishments accept on-line subscriptions so if you can subscribe your children to their new school, sports teams and etc before you leave. This way you and your family will have something to do upon arrival and won't have to scout the neighborhood and city in order to find the establishments that you seek.
Last as soon as you arrive try finding establishments that are managed by your countrymen. This way you will have a place to go where you can speak your home language, eat your home delicacies or simply spend some time among people that are from the same country as you.
---
About author
Jeremy Oliver




Previously serving as a logistics coordinator, Jeremy's comprehensive understanding of the industry gives him the ability to translate complex procedures into easy-to-understand blog posts. He has a particular knack for tackling the intricacies of London's removals scene, from the congested roadways to the unique challenges of navigating historic neighborhoods. As an authentic Londoner, Jeremy combines practical knowledge with his inherent love for the city, offering readers not only information on man with van removals but also local insights and valuable tips.