The London Garden Bridge – A Dilemma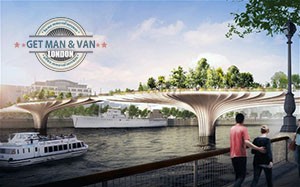 One of the most ambitious and eagerly anticipated projects of London City Council is the proposed construction of a garden bridge across the Thames in central London. The garden bridge will be an installation connecting both banks of the river, thus providing much easier access and connection between landmarks and tourist attractions on both sides of the Thames. Council goes on to say that the garden bridge will also increase pedestrian safety, allowing for safer walking routes around central London. The bridge will feature nearly three hundred trees planted on and round the structure itself. As per the council, the bridge will greatly benefit local and wider London economy.
As always, there are two sides to every story. A local resident who feels the council has unlawfully granted the hundred and seventy five million construction project the go ahead has challenged the project in court. He goes on to say that the effect of the bridge would be anything but beneficial. While the project is in judicial limbo, Lambeth Council is going on with preparations for commencing construction like fund raising, public information programs etc. The council will even consult specifically with local residents who feel affected by the bridge construction.
According to local residents who oppose the construction, the bridge will compromise some of London's best panoramic vistas as seen from south bank of the river. Specifically views south toward City of London, St Paul's Cathedral and Waterloo Bridge. Lawyers arguing on behalf of opposing residents (and local organisations representing these citizens) say that Lambeth Council has indeed compromised many of its duties to protect and preserve historic buildings in their original settings. Allowing bridge construction to go ahead, being an example of that. In response, the council says the bridge will prove to be a worthy investment for the local and wider community with the real potential to become a hugely popular tourist attraction, alongside some of London's most iconic buildings.
Construction plans were given the green light by London Mayor Boris Johnson in December, the legal ordeal surrounding the project is not expected to drag on for too long. As per Lambeth Council the bridge project should go on as it is an ambitious and creative, and will benefit the wider community. It is estimated that more than seven million trips will be made across the Garden Bridge each year.
The debate over whether or not historic landmarks should be paired with contemporary construction projects has no clear answer as both parties seem to have valid pro and con arguments. Fact of the matter is though, that even historic skylines need updating, and a reasonable combination of both contemporary structures and historic landmarks is an acceptable compromise, or at least should be viewed as such. It is unlikely for the Garden Bridge construction permission to be overruled, or the project halted in any other way but that won't suffice opposing groups. Only time will tell how much return would this investment yield, but nevertheless expectations are high.
---
About author
Jeremy Oliver




Previously serving as a logistics coordinator, Jeremy's comprehensive understanding of the industry gives him the ability to translate complex procedures into easy-to-understand blog posts. He has a particular knack for tackling the intricacies of London's removals scene, from the congested roadways to the unique challenges of navigating historic neighborhoods. As an authentic Londoner, Jeremy combines practical knowledge with his inherent love for the city, offering readers not only information on man with van removals but also local insights and valuable tips.