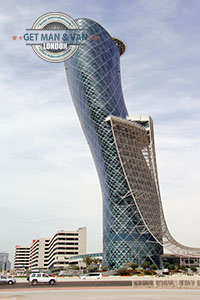 Strange Architectural Marvels
Architects and builders throughout the centuries have come up with some awe inspiring structures and buildings, with many of them rightfully being included in the list of seven ancient wonders of the world. In modern times, civil engineers along with architects and master builders have created not only amazing, but somewhat whacky building designs based on unusual concepts, some might consider even experimental. Like it or not, these unbelievable structures exist today and inspire people across the world.
Here are some of the amazing structures and engineering feats worth mentioning
Capital Gate Building, Abu Dhabi
Ever heard of the Leaning Tower of Pisa? Well, this is the leaning skyscraper of UAE. The thirty five storey structure is intentionally designed to lean over eighteen degrees westward, which is more than four times the lean angle of the tower of Pisa. The engineering behind the leaning skyscraper is innovative and provides sturdy foundation for this architectural extravagance.
Laerdal Tunnel, Norway
This structure takes tunnel drilling to a whole new level. The tunnel connects the Norwegian cities of Laerdal and Aurland in more than spectacular of a way. The tunnel which was drilled across thousands of tons of rocky mountains is an engineering triumph,

24 kilometres long

(the longest road tunnel ever), it takes about 20 minutes to cross by car.
Die Gläserne Manufaktur, Dresden, Germany
This was created as the futuristic, extravagant manufacturing site of Volkswagen's luxury sedan – the Phaeton. The building was completed in 2001, its name literally translates to 'factory made of glass'. This is a factory like no other as the 30 thousand square metres of glass allow for the public to see everything that goes on inside. And that's just one of the perks.
Kansas City Public Library Parking Garage, US
The library's parking garage was an amazing project completed in two thousand four. The façade of the building is engineered and designed to resemble a line of books, on a shelf which happen to be 21 of the most loved and acclaimed literary titles in the world. The literature works were chosen by the people of Kansas City.
Subaru Telescope, W.K. Observatory, Hawaii, US
From an technical point of view, the Subaru telescope on the top of mount Mauna Kea, Hawaii is a true gem with its highly advanced optics able to gaze unimaginable distances into space. From a structural and architectural point of view,

the telescope is also a marvel

and took some serious engineering and effort to construct. To put things in perspective, its main lens weighs twenty five tons.
Rectangular Stadium (AAMI Park), Melbourne, Australia
Contrary to its 'boring' name AAMI Park as it is known in Australia, is the next generation of sports stadia. The building's design and architecture is anything but rectangular, let alone boring, especially when looked at from bird's eye view. The stadium's geodesic roof design is not only futuristic and extravagant, but has also allowed for notable reduction in steel as building material, making the entire roof structure lighter.
---
About author
Jeremy Oliver




Previously serving as a logistics coordinator, Jeremy's comprehensive understanding of the industry gives him the ability to translate complex procedures into easy-to-understand blog posts. He has a particular knack for tackling the intricacies of London's removals scene, from the congested roadways to the unique challenges of navigating historic neighborhoods. As an authentic Londoner, Jeremy combines practical knowledge with his inherent love for the city, offering readers not only information on man with van removals but also local insights and valuable tips.